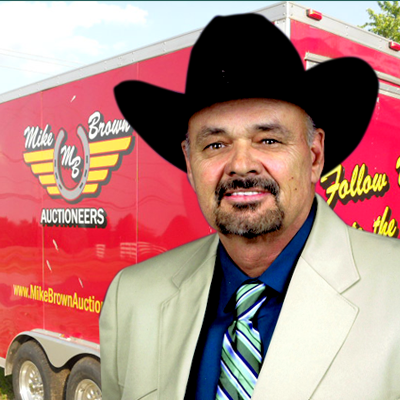 Mike is a life long resident of Clermont County, Ohio. He grew up with a farming background and was involved with farm equipment and livestock. A graduate of Williamsburg local schools and Ft. Smith Auction School in Ft. Smith, Arkansas. Mike is also a livestock auctioneer at Union Stockyards, Hillsboro, Ohio. Mike Brown will deliver the best results to your antique, commercial, estate, farm, household, livestock and real estate auction.
Mike is a licensed real estate agent with United Real Estate Home Connections for any of your real estate needs: conventional listings or selling at auction.
1975 Graduate of Ft Smith Arkansas Auction School
1976 Licensed Ohio Auctioneer
1978 Licensed Ohio Real Estate Sales Agent
1978 Licensed Kentucky Auctioneer
2004 World Livestock Auctioneer Contest, semi-finalist
2004 National Livestock Auctioneer Contest, top 5
2005 Ohio Auctioneer Contest, top 5
2007 Licensed Indiana Auctioneer
2011 World Champion Auctioneer Contest, semi finalist
Fund Raiser Auctioneer for NRA
Fund Raiser Auctioneer National Wild Turkey Association
100's of successful Real Estate auctions
1,000's of successful personal property auctions
Premier Auctioneer with Southern Ohio Board of Realtors
We conduct our auctions with a professional attitude from the initial contracting through completion of sale. Copies of buyers list, advertisement expense and closing sheet are provided to the seller.
We're happy to provide references from previous sellers, and if you have any questions, please feel free to call me at 513.532.9366.
Thank you for your time and consideration. We are looking forward to future contact.