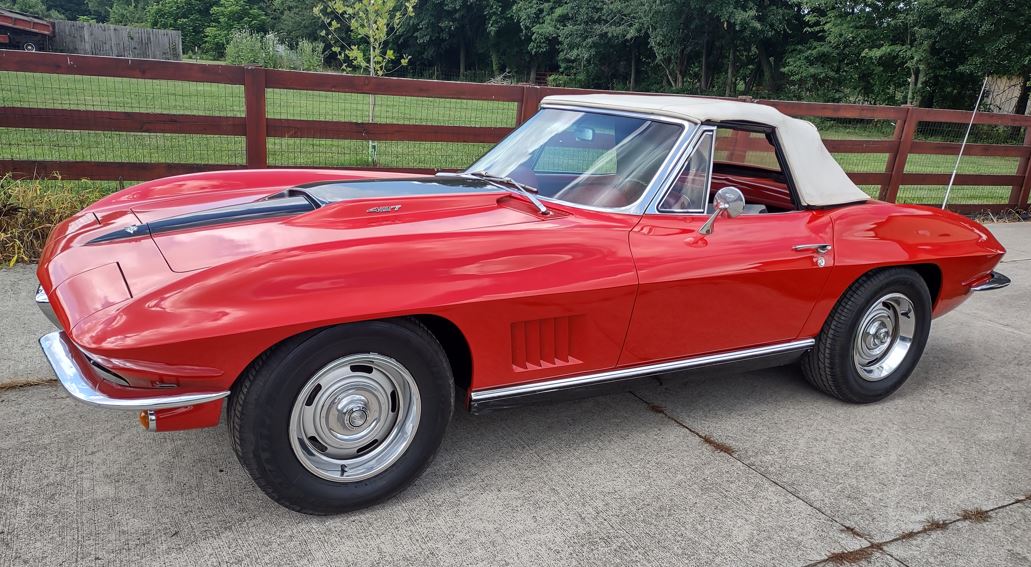 10 AM Saturday August 27,2022
Located: 7547 Watkins Starkey Road Blanchester, Ohio 45107. From Blanchester at SR 28follow SR 123 NW right on Osceola Road to Watkins Starkey Rd. Watch for Signs.
PREVIEW 10AM to 12(NOON) SATURDAY AUGUST 20, 2022
12 NOON……PROXIBID WILL BE ONLINE DURING THE LIVE AUCTION OF THE FOLLOWING ITEMS. SEE TERMS BELOW.
Kubota tractor BX2380 diesel 4wheel drive LA344 loader w/mower deck and w/Land Pride rear tine tiller 30.3 hrs
John Deere diesel tractor 1025R 4 wheel drive, w/120R loader w/4′ Frontier bush hog 205 hrs
Kubota utility vehicle RTV 1100 4WD diesel w/snow plow heat and air 80 hrs
Honda Foreman quadrunner 4×4 377 hours
Polaris Sportsman w/snow plow, all wheel drive 106 hours
Suzuki AgrEiger quadrunner 4×4 493 miles
Suzuki 750 motor cycle
2003 Honda 1800 motorcycle
2006 Honda 1800 motorcycle
Honda 70 trail mini bike
Honda 50 trail bike black/white
Honda 50 trail bike blue/silver
Honda 50 trail bike red/silver
1967 Corvette Stingray, Stinger hood, 427-4 speed red w/white convertible top, rally wheels, red interior, 49.900 miles nice
1972 Corvette Stingray 350-4 speed, black w/T-tops, black interior, headers and side pipes 44,017 miles nice
1970 Dodge Superbee 440 Big block, auto, plum crazy color, white interior, miles, 95,632 miles nice
1968 Dodge Charger General Lee 440 Hemi auto rebuilt motor and trany, A/C
1961 Corvair 95 Mystery Machine Scooby Doo, runs
1957 Chevy Belair hardtop 350 4 speed updated brake, needs finished
1979 MG Midget standard shift, white w/black convertible top, 27,380 miles
1973 VW Thing
Porsche 959 replica VW frame only 30 in the US
1973 Mercedes Benz Replica with Ford 4cyl engine 1,560 miles
1955 T-bird MINI car, robin egg blue, given to buyer when they purchsed a new T-bird
1994 Jeep Wrangler lifted, big tires and wheels, auto
2004 Nissan diesel 14′ box truck
2004 Chevy Silverado 3500 1-ton lift gate
THE ITEMS BELOW WILL BE SOLD AT LIVE AUCTION ONLY:
Scag Vride zero turn Kawasaki engine. Wright Stander mower zero turn 23 HP. Yamaha Beartracker 2 wheel driver 4 wheeler. BAHA Warrior 200cc motorcycle. MF Massey Ferguson 205-4 diesel tractor. 25 ton Black diamond wood splitter gas used two times only. Pride rototiller 30.3 hrs. snow plow for truck. 5′ grooming mower. electric concrete mixer new. concrete buggy. 3 Redman backpack blowers. new table saw. hose reels. Blizzard ice chaser salt spreader box. 2 gas powered generators. 5 HP upright air compressor. large rigid tool box. several aluminum ladders new. Delta drill press-new. jack stands. misc tool boxes. JD push mower. window & floor model air conditioner, several bags of ice melt, 3 Paslode cordless nail gun, 3′ excavator bucket, 16 ft scaffolding, 2 brand new brush Master wood chipper. metal phone booth. various arcade games, lethal weapon pinball machine. childs golf cart drive train wood cars & tub train w/3 cars, new fishing poles. new Maytag cooking oven. 2 commercial ice makers. CokeCola restaurant tables w/stools. new, 4 softserve ice cream machines, large amount of restaurant items such as pizza ovens. CokeCola soda (flavors) machine. Turkey Hill pop machine. new granite counter tops.
pallet of flooring. pallet full of misc hdwe. Single axel cargo trailer. New gas powered brush chopper. Toro Workman golf utility vehicle.
OWNER: Gregory Pilot
TERMS: PERSONAL PROPERTY TERMS: All sold "as is, where is" with no guarantees. Payment made on auction day with cash or good check on live auction portion of the sale with proper I.D. Announcements made auction day take precedence over any previous notification. Not
responsible for loss of property or accidents
All titled items will be released day of auction with full cash payment. Titled items paid by check will be held for checks to clear the bank.
PROXIBID TERMS: 5% Buyer's Premium added to last bid. Items/Titles will be released after payment received by wire to the bank
No items sold prior to Auction.
AUCTIONEER'S NOTE: This will be a nice auction with some fantastic cars and more
Mike Brown, Auctioneer