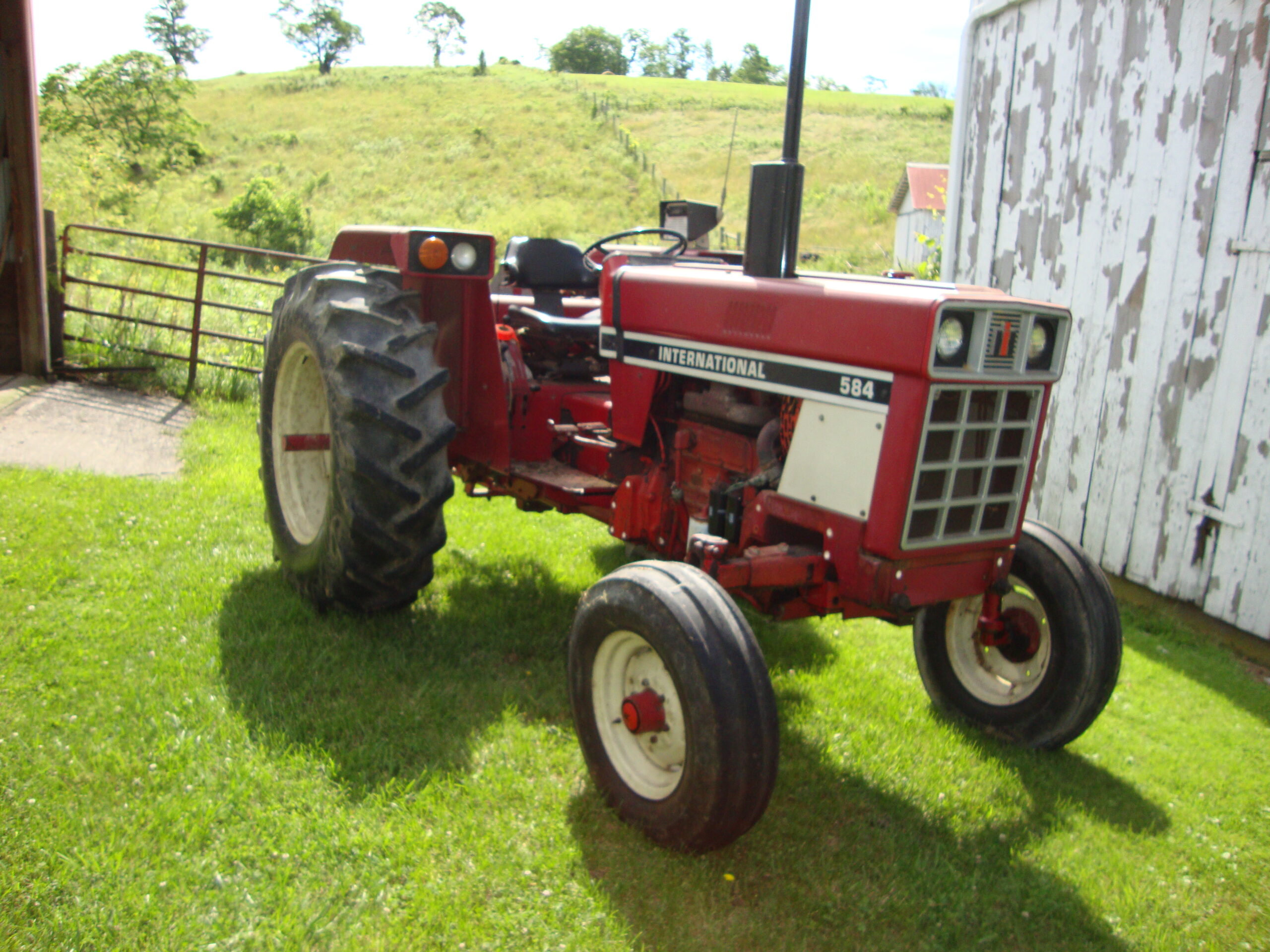 PUBLIC AUCTION
10:00 AM SATURDAY AUGUST 28, 2021
Located: 9230 North Pole Road Ripley, Ohio 45167. North Pole Road off US 68.
TRACTORS-MACHINERY-VEHICLES-ANTIQUES-TOOLS
TRACTORS
International 584 diesel, remote, orig rubber 2400 hrs1 owner barn kept. Oliver Super77 3 pt hitch 1 owner 90% rubber extra hitch, Allis Chalmers C-Tractor tricycle parade ready good paint good rubber, Oliver Row Crop 66 tractor good paint, Allis Chalmers B-Tractor wide front, Oliver 60 Rare 5 speed transmission good paint.
EQUIPMENT
Case IH 8330 haybine 9 ft cut nice, Oliver 207 side delivery rake, INH 37 10 ft disk seal bearing, Oliver 8240 2 bottom plow, Oliver 8 ft pull type disk, 2 section harrow, 10 ft David Bradley lime spreader, AC 2 bottom high clearance plow, 6 ft scraper blade, John Deere 327 square baler nice, 7 1/2 ft 3 pt Bushhog HD, NH 213 manure spreader nice, INT 990 haybine 7 ft cut, 6 ft King Kutter grooming mower, 14 ft flat wagon, Oliver flat wagon, AC plow, JD side dreasser, PTO 3 pt seeder, 3 pt subsoiler, 3 pt posthole digger, 3 pt wheel hay rake, boom pole, Oliver sickle bar mower, 3 pt carryall, triaxle heavy bumper hitch trailer, Farnam trailer type cattle chute, odd gates, metal fence post, Poulan riding mower, 3 pt hay spear, exceptional double set of Mike Brown harness complete in great condition, many other small farm items too numerous to mention.
CARS AND TRUCKS
1968 Dodge Dart 270 318 V8 auto orig and very clean 1 owner 98,000 miles garage kept. 1982 Chrysler LeBaron V8 auto 1 owner garage kept 104,000 miles. 1982 Dodge Ram 150 52,000 miles V8 auto very nice
MISC TOOLS
Craftsman air compressor, Speedair air compressor, Sears generator, barn jack, ox yoke, lawn sweep, log chains, rope block, battery charger, 2 sets cow kickers, misc hand tools, electric fence chargers, Stainless milk buckets, lawn mower jack
HOUSEHOLD AND MISC
Drummond Implement Co Portsmouth, Ohio Oliver clock, cedar wardrobe,unusual secretary made by Pfeffer Family, waterfall bedroom suite, leather doctors bag, long wall mirror, GE washer and dryer, upright freezer, metal bed, 3 pc bedroom suite, old store piece, old jelly cupboard
These items belong to the Family of Ralph Gaither and Wilber Gaither and are being sold at auction.
AUCTIONEER NOTE; Exceptionally good clean items in this auction with a great variety of items. Good parking. Plan to attend. The Gaithers have lived here many many years
PERSONAL PROPERTY TERMS: All sold "as is, where is" with no guarantees. Payment made on auction day with cash or good check with proper I.D. Announcements made auction day take precedence over any previous notification. Not responsible for accidents or loss of property. ID required to register for buyer's number. Angela's Curbside Cuisine Food Truck will be on site.
Owner: The Family of Ralph Gaither and Wilbur Gaither
Mike Brown & Associates LLC, Auctioneers
Mike Brown, Auctioneer (513) 532-9366
Agent with United Real Estate Home Connections
also on www.auctionzip.com

Randy Dugan, Auctioneer 937-213-1157