Saturday May 31, 2014, 10 am: 472 Nicely Road Midland, Ohio
OPEN HOUSE  Sunday May 18 1 to 3 pm
View auction flyer. Download referral form.
A beautiful country estate. Very prestigious appearing home from the entry. Very well-built one-owner house with some great views of the approximately 5 acre reservoir next door. Property has office with outside entrance.
Property shown by appointment only! Call Mike at 513.532.9366 to schedule.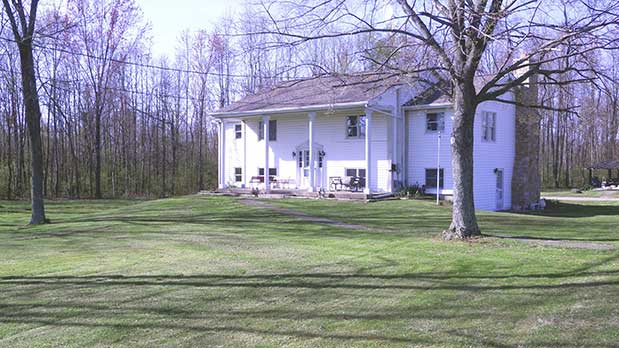 SR 28 approx 1 mile east of Blanchester to Dudley Road follow approx 2 miles to Nicely Road. Follow approx 1-1/2 miles to sale site. OR from SR68 to Westboro Road to Nicely Road to sale site.
Majestic 2 story house on 2.378+- acres(2 lots) , dimensional shingles (newer), Rock chimney built in 2013, Airtight Fisher stove insert in brick mantle, office with outside entrance, family room, enclosed back porch, full bath with shower level 1, full bath level 2, 2 car oversized garage with 9 ft door/door openers and storage area, fuel oil heat forced air with Weil Melain boiler (newer) hot water baseboard heat, lots of storage closets, large living room with built in hutch on level 1, formal dining room on level 1, 3 bedrooms on level 1, house has solid 6 panel doors, hardwood floors, carpet in bedrooms, Anderson wood and vinyl windows, wood kitchen cabinets, dishwasher, great shade in large yard, city water, septic. Partial concrete drive, fantastic outbuildings. Property has several storage buildings.
28'5″x13 living room level 2
10×11'2″ dining room level 2
11'6″x10'8″ bedroom level 2
11'x11′ bedroom level 2
11'10″x16'8″ bedroom level 2
13'x13'10" kitchen level 2
11'2″x11'4″ office level 1
27×12 family room level 1
12×9 utility room level 1
27×23'4′ garage w/offset 10'8″x4′ level 126×33 outbuilding with 14×24 offset
15×20 gazebo/patio with built in picnic table
10'4″x6′ outbuilding
12'8″x16′ garage with 8′ garage doors
28'x31′ with 20×16 offset garage with oil pit
Acorn stairlift cost 9,800.00 new last year, handicap walker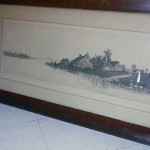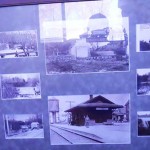 Etched painting by Ernest C Rost(born 1866 died 1940) nicely framed "Fisherman's Home" from late 1800 to early 1900. bald eagle picture in nice frame
framed pictures of Westboro (depot, steam engine, dam, reservoir, B&O railroad, lower dam, fair ad, most of these dated late 1800 to early 1900240 diesel International tractor hydraulics good rubber, International 140 tractor good rubber hydraulic side mounted cycle bar, 3pt scrapper blade, 20′ batwing bushhog, lots of new tractor/equipment parts, Dixon 15 1/2 hp lawn mower, Dixon 12hp lawn moweracetylene outfit, Craftsman stick welder, wood lathe, small metal lathe, 20 ton hydraulic press, drill press, band saw, power hack saw, 9″ table sander, anvil w/hardy, Duracraft drill press, small drill press, several bins full of new nuts/bolts/hardware, Homelite chain saw, air tools, misc chain saws, power hedge trimmer, air compressor, gas engine, gas operated water pump, bench vise, Makita sawz-all, 1/2′ reversible big drill, table saw, Gunk parts washer tank, hand tools(sledge hammers, potato digger, rakes, double bited ax, shovels), wheelbarrow, several tool boxes and tools, weedeater, hand saws, pipe wrenches, vise, 33″ Rigid pipe wrench, 55 gal drum with pump, wire brush on stand, grinder on stand, battery chargerbarrel cart with long wood handles, carpenter tool box, iron saw horse, pitcher pump, Crystal dinner bell, misc storm doors and hardware, building supplies, large selection of new bi-fold panel doors still in boxesmisc 4″ square tubing, misc lumber/sycamore/oak/walnut, threaded rod, cable, gas grill, Evinrude boat motor, push lawn mower, wooden extension ladder, big step ladder, oak drafting board, printerWinter spinet piano w/stool, round wooden table and chairs, table w/2 leaves chairs and hutch, grandfather clock, 2 end tables with drawers, cast iron kettle, iron skillets, cast iron corn stick pan, lamps, baskets, fans, sewing machine, crockpots, Eureka Atlantis carpet cleaner, toaster, George Foreman grill, Whirlpool washer/dryer, 6 drawer chest, recliners, sewing machine cabinet, folding card table, couch, antique glassware, ruby red glassware, etched pieces, carnival glass, Wagner, Goofus, glass covered cake stand, various china, Duncan Fyfe round table, dresser, wall hangings, rocking chair, chest freezer, double door frig, corn hole game boards, swing set, several bicycles, small metal desk, yard swing, 2 wrought iron park benches and glider
12 ga 3 shot Mossberg modified choke, 870 Remington, Daisy BB gun, 6 gun case
---
PERSONAL PROPERTY TERMS: All sold "as is, where is" with no guarantees. Payment made on auction day with cash or good check w/proper I.D.
REAL ESTATE TERMS: All properties are sold "as is, where is."
Non-contingent purchase contract to be written immediately following the final bid. $2,500.00 (non-refundable) certified/cashier check (payable to Buyer) deposit required day of the auction for each property purchased, to be deposited in the escrow account of HUFF REALTY. Closing for each property will be on or before June 30, 2014. Possession according to the purchase contract, subject to tenant's rights if applicable. If Buyer fails to close per terms of contract, the deposit is non-refundable. Seller will furnish a clear certificate of title at closing at Title Company. Any other terms and conditions will be announced day of auction and will take precedence over printed material. Taxes pro-rated to day of closing. Your bidding is not conditional upon financing, so be sure to have arranged financing and are capable of paying cash at closing Auctioneer and real estate company are working for the seller only. Bidders shall rely on their own inspection and not upon any description of the auctioneer, owner or agents. All decisions of the auctioneer are final.
2% co-op to Ohio licensed real estate agent that brings purchaser to auction. Agent must register potential buyer on auction company forms and email to Auction Company no later than 48 hours prior to auction (10 am May 29, 2014) to be honored. Agent must attend auction with registered potential buyer. No exceptions will be made. Contact Mike with any questions and to receive confirmation of bidder form receipt. Disclaimer: All information contained herein is believed to be accurate but not warranted. No warranties expressed or implied, subject to all easements, restrictions, zoning, covenants and other matters of record. All measurements are approximate and not guaranteed. Any home built prior to 1978, could fall under the Lead Base Paint Law. Any potential bidder may conduct lead paint tests 10 days prior to sale at buyer's expense. Purchaser will sign a waiver of the 10 day post sale inspection. All inspections must be completed prior to auction date at potential buyer's expense.
Not responsible for accidents or loss of property. Identification required to register for buyer's number. Announcements made auction day take precedence over any previous notification.
SELLER: John T. Houston and Ella Fay Houston Living Revocable lTrust, Stan Houston Trustee
Auctioneer Note: The Houstons are moving to Georgia and have no further use for these items. A great list of items and a fantastic property.
Mike Brown Auctioneer, Agent with HUFF REALTY. Auctioneers and Mike Brown and Associates, LLC are licensed by the department of agriculture, is bonded in favor of the state of Ohio or if applicable, participates in the auction recovery fund.